An ergonomist lists different health factors that can make us feel good around the office
Health factors in work life often bring together elements that promote employees' psychological health at an organisational level, such as trust, developmental opportunities and common goals. However, we also want to highlight the significance of their work environment for sustainable health. We requested the help of physiotherapist and ergonomist Erica von Sicard to list physical health factors that can help us feel better in the office. Read more below and check off the points relevant to your office.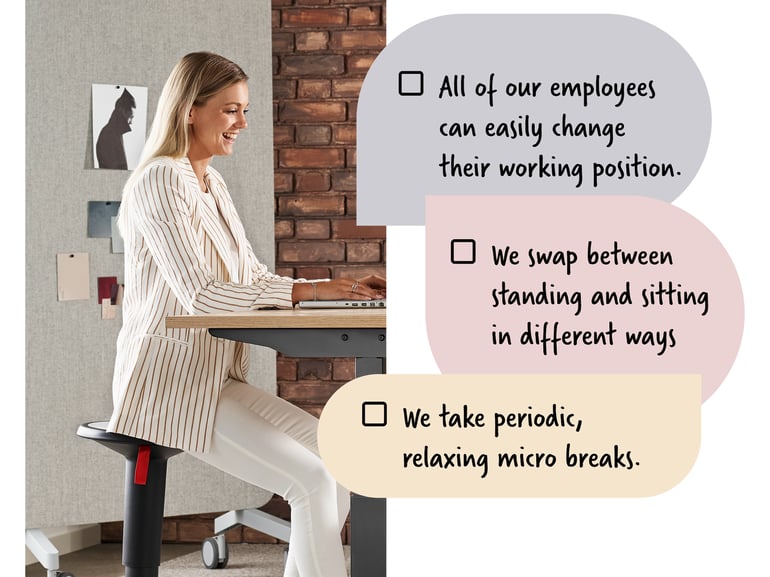 1. Varying your working positions 
The body is made to move and changing your working position could be the key to a healthier work life. Movement enhances our blood circulation, which in turn improves our brain function and makes us more alert. It is good to have a workplace where people can stand and sit, as well as sit in different ways. This is also relevant when working from home.
 
Remember to work centered and if standing, use a standing mat etc. to help you work in a more comfortable position. Don't forget to take microbreaks sometimes, just take a breather and relax your neck and shoulders.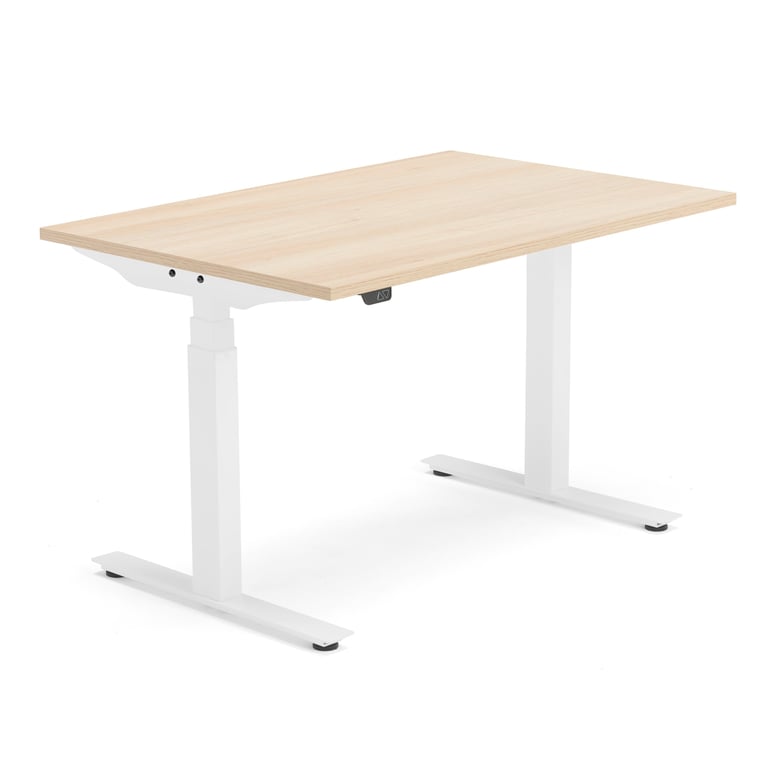 TIP! Sit-stand desks 
Switching between sitting and standing is the perfect way to activate the body during a day at the office – make it easier with a height-adjustable desk. Our desks are available in several colors, shapes and sizes, but they all have one thing in common: they are an investment in well-being. 

 Click here to view desks that make it easy to change position
2. A pleasant sound environment
Some things can have a negative effect on good working atmosphere such as disturbing noise. It's not just work that suffers, the increased effort to stay focused may cause strain in the neck and shoulders and may also cause headaches. The solution is to furnish working areas with soft materials such as screens, upholstered furniture, mats and sound absorbents in the ceiling and walls, all to block and absorb the sounds in the room.  
 
One tip is to create "quiet rooms" for more focused work and "talking rooms" for telephone calls and video meetings, ensuring that colleagues are not disturbed.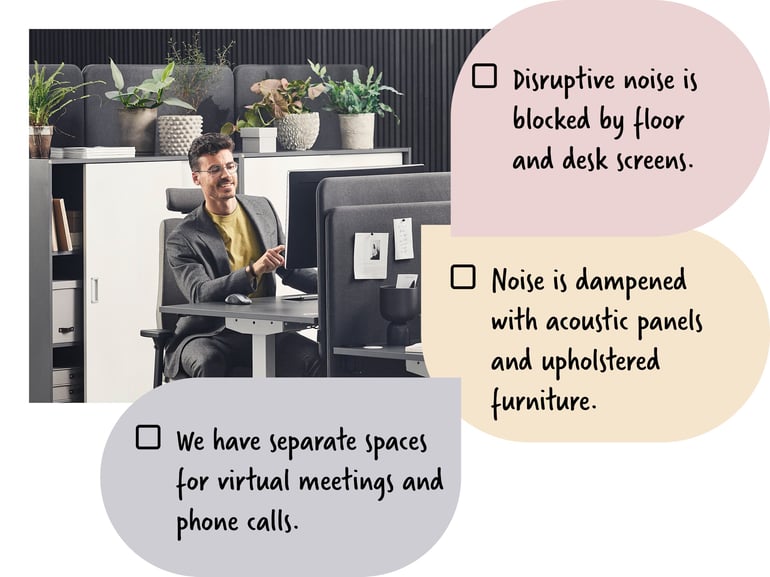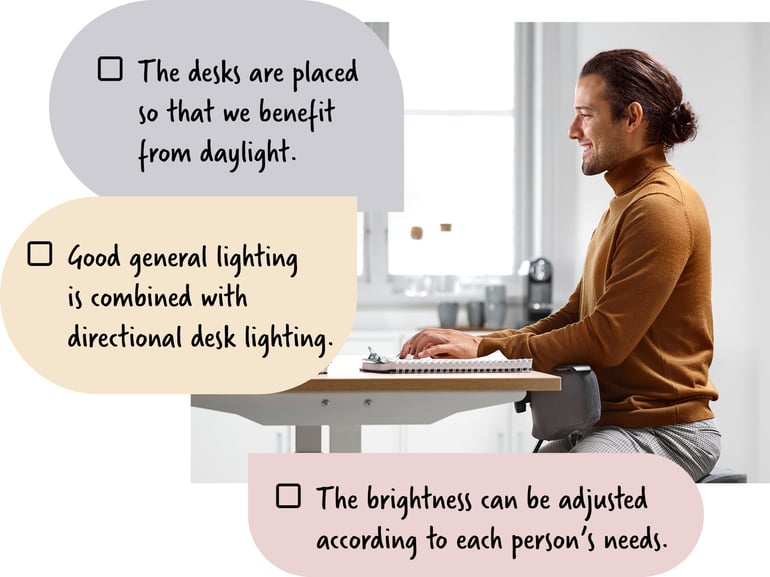 3. Correct lighting 
Good lighting is a prerequisite for wellbeing and helps us to see and work better. Position desks so that you get day light without getting reflections on screens. Keep in mind that any ceiling lights should be even and should come in front of the body to avoid shadows. Combine this with focused desk lighting which should be placed according to the employees' needs.  
 
Do you have proper lighting in the premises? The cap test can give you the answer. Place your hands above your eyes. If the light feels more pleasant "with the cap on" then that means that the lighting needs to be improved.
Tip: Take lunchtime walks during winter if possible, a chance to refuel your energy with daylight. 
4. Furnish for breaks  
We humans are social beings, we feel good by interacting with others. We can easily reinforce positive feelings by creating inviting environments for breaks, lunch and relaxation with colleagues. Consider making lounges and canteens mobile-free, making people more aware of their surroundings. Another tip would be helping to build team spirit through play by adding a ping pong table or similar!  
 
Don't forget that colleagues who work from home also need to feel included, "digital coffee sessions" may be a good idea.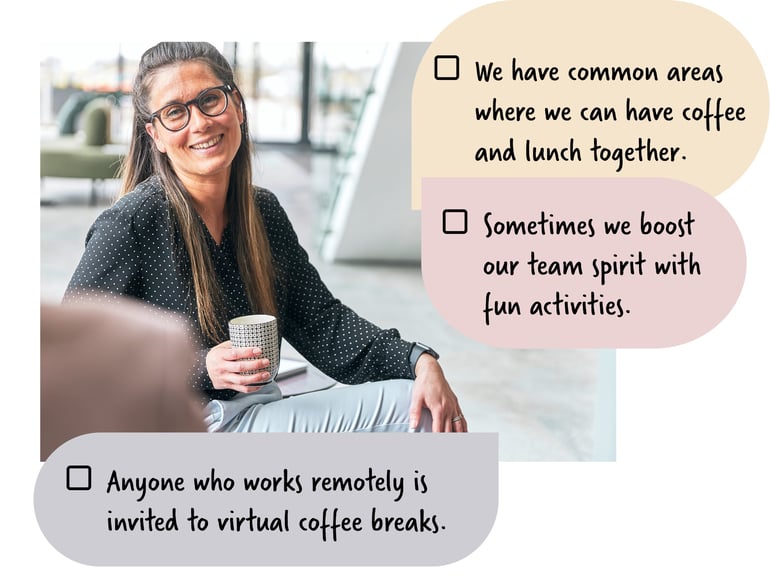 TIP! Sofas for all occasions 
A comfortable seat for visitors, an alternative workplace or an inviting gathering point during coffee breaks? Sofas can fulfil many functions in the office and look in many different ways. What are you looking for?

Click here to view sofas for the reception, office and lounge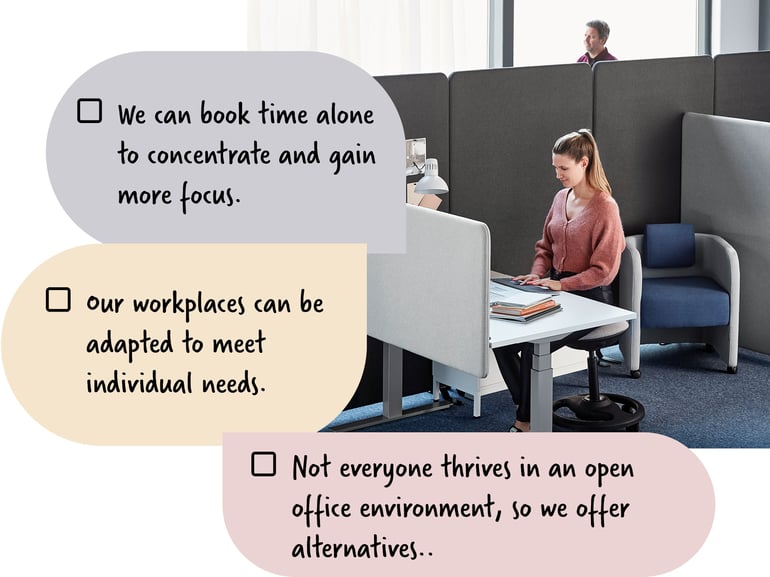 5. Getting to be yourself
Not everyone likes an open office. Some may feel uncomfortable or have difficulty performing at peak in such environments, therefore alternatives are required. Ideally, each workplace would be adaptable to the individual's needs, in terms of having their own personal space. This can be easily solved by adding screens, storage and positioning of different workstations throughout the room.
 
Another tip for working undisturbed is to book time alone as a meeting, making it time when you can be fully focused on your work. 
6. More organisation, less stress  
Some do not get disturbed at all, however others may get flustered and stressed by heaps of paper, cable clutter and piles of unwashed dishes, keeping the office organised has advantages. You can solve this by furnishing with storage cabinets and cable tidies and by establishing routines for sorting food waste and recycling in the canteen and paper and stationery in the storeroom. 
 
It's also good to have a general rule for everyone to dispose their own waste in common areas - for everyone's wellbeing!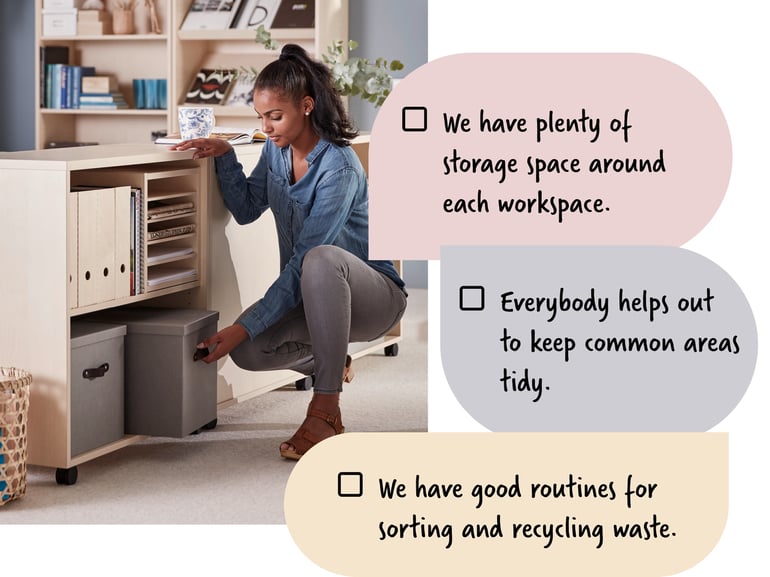 Need help? Ask our interior experts!
We at AJ Products are always available to help you with solutions suited just for your business. Contact us if you have questions on the choice of fabric, need some inspiration or want to know the alternatives that would best suit your premises. We can then tell you more about your choices.